EmployeeLife Surveys
If you or your Company conducts employee surveys, you already know that once the survey is completed, it takes way too much time to view the results, and compare against previous surveys.
The irony is that the more time you spend trawling through results and creating reports, the less relevant the results become.
EmployeeLife is an online platform specifically designed for conducting employee surveys, simply and easily. Not only can you keep your finger on the pulse by conducting short and regular polls, but you can instantly compare results of previous surveys - in real-time!
You can also make use of an optional feature called My EmployeeLife, an internal social network that allows you to log, share and compare goals, tasks, ideas and milestones. Monitoring performance and fostering employee engagement has never been easier.
Measure the things that matter in real-time through regular pulse polls.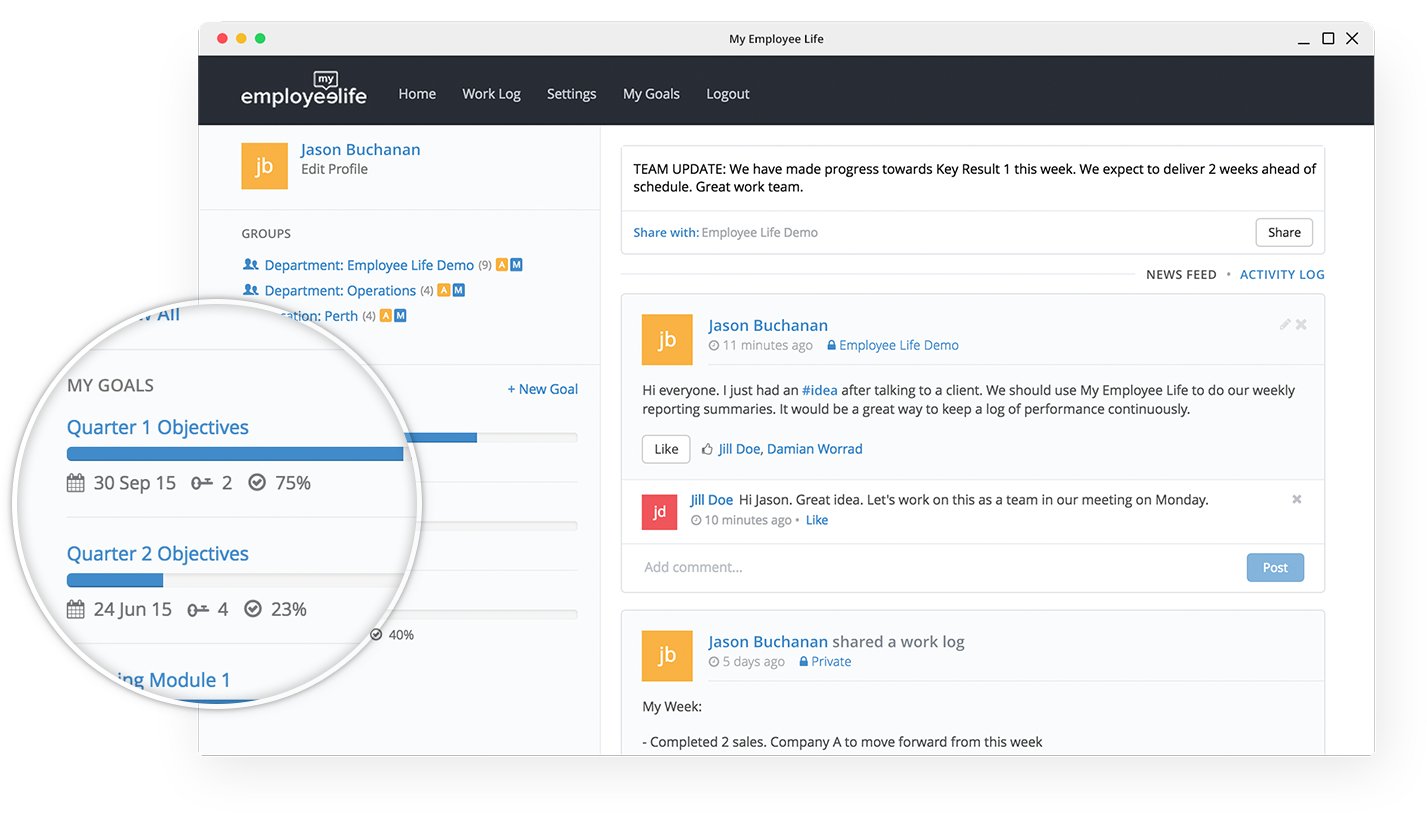 Foster an aligned employee community
EmployeeLife has an optional social network feature that allows you to connect, collaborate and engage about the things that matter most.
Continuous Performance Intelligence
A fresh approach to improving productivity, agility and performance
Employee Life has its own 'Comparison' dashboard that allows you to compare any data in the system, with any other data already in the platform. You might compare departments over time, or you might compare a certain location with an overall result from years ago! The choice is up to you.
Saves time and money how?
1. Instantly compare and share results. Whether you are comparing one department with another, or whether you are comparing one survey with another, you will have real-time access to results, to make decisions quickly. Not only does this save you time when it comes time to viewing the results, the timely decisions you make means the actions you take bring faster results, freeing up more budget in the future. You can also create a 'shareable' dashboard - click here for an example.
2. Cost Effective. Employee Life customers choose it for its simplicity, but also because you only pay for the number of responses you receive. If you send a survey to 500 people, and you receive 400 responses, you only pay for the 400. There are no yearly fees to commit to, and no pressure to conduct too many surveys in order to get the best value out of it.
3. Specifically designed for Employee Surveys. Whether it is the anonymous mode, the 360 feedback surveys or the collection of individual data through forms, Employee Life is designed to seek the opinions of Employees. This is far more important than it might first sound. If employees don't feel like you are taking the exercise seriously (for example, if they got a survey from something named after a Monkey), why would they take it seriously? Also, Employee Life is a genuinely anonymous survey, even when you manage it yourself. (You have the flexibility to run a 'form' if you would like, which isn't anonymous).
4. Monitor goals and tasks in real-time. Spend less time on coordination meetings and see the status of and comment on each goal or task by each of your staff, all at the convenience of your desk or mobile phone.
Create a trial account & discover pricing.
Hint: there is a special price on offer at the moment, create an account to learn more.
Start earning 30% commissions today!
Simply fill-up this form below, add Employeelife to your website, and redirect your users from your website (or emails) to our site with your self-generated referral link: